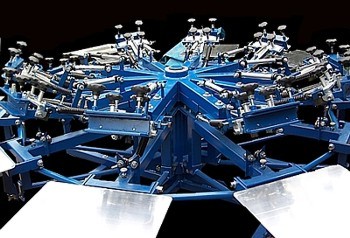 Our company specializes in the manufacture of machines for screen printing on fabrics, paper, balloons, caps, umbrellas, tablecloths, glassware and round objects.
Currently, we are developing a three-quarter automatic baloon screen printing machine.
We produce modern Polish machines.
However, GREYMETAL is something more than machines for screen printing. We also automate technological processes in order to solve the most difficult tasks in many fields of industry.
We invite you to collaboration with us. Our engineers are at your disposal.
So far, our company has produced:
More than 260 carousel printing presses in various configurations
More than 140 flash type IR drying stations
More than 50 drying tunnels
More than 60 semi-automatic and three-quarter automatic machines for monochromatic and polychromatic screen printing, including three-quarter automatic machines for printing on glassware in 2250 x 3210 mm
Magnetron glass coater used for objects in 1200x 3000 mm. It is the biggest machine ever designed and manufactured in Central and Eastern Europe.
We were the first in the world to design and manufacture the automatic line for chemical frosting of glass. It consists of seven autonomous and remotely-controlled robots which move along the suspended closed track
We also designed and manufactured an experimental glasshouse with automatically changing parts of the roof
Recently, we have manufactured the first Polish semi-automatic carousel printing press to print on T-shirts and we are currently designing automatic printing press to print on perfume flasks in 6 colours.
Zbigniew Polit